Originally a specialist in children's bedrooms, Gautier expanded its offer to become a furniture designer for the entire home whilst retaining its reputation as a committed and responsible company. These high standards are what give the Gautier name its excellent reputation both in France and abroad.
Today, Gautier designs and manufactures collections for Living Rooms, Bedrooms and Dressing Rooms for adults as well as spaces for Children and Teenagers. These collections all have one singular aim: to help make everyday life more stylish, simple and comfortable.
To achieve this objective, we are building on solid foundations. Every day, the #GautierTeam works hard to develop increasingly innovative services, and design and manufacture products on our production sites in the Vendée, just as it has done for almost 60 years and with the same amount of passion.
Our recent investments enable us to remain competitive and responsive to the demands of the constantly changing market. As our latest industrial change, FLEX brings us agility and flexibility both in terms of creativity for our designers and responsiveness to meet the needs of our customers.
Industry has always been part of our DNA, which is why we have always invested in this field so we can continue to manufacture in France. We also aim to retain our guarantees of producing environmentally-friendly and high quality French-made furniture.
We champion the French Fab accreditation, in France and in the Vendée in particular, where we are privileged to be ambassadors for the movement.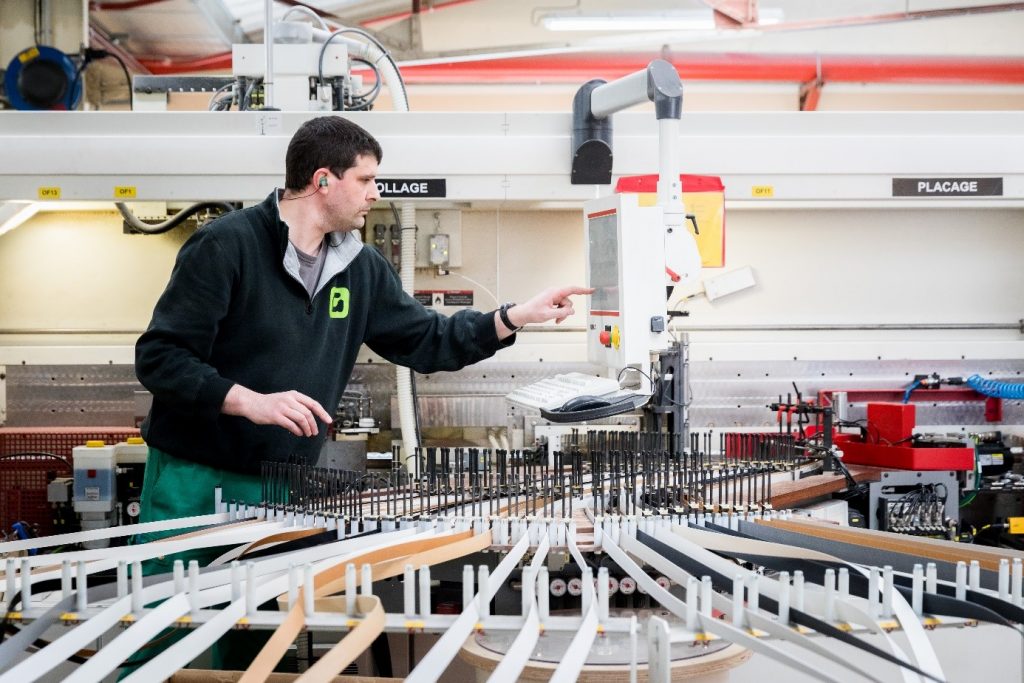 The company's vision is based on four key elements that define our philosophy:
Our designs stand out with their innovative feel, individual style and ability to make everyday life more stylish, simple and comfortable.
French manufacturer
Gautier is one of the main proponents of the Made in France initiative. In addition to the three production sites in the Vendée region of France that employ over 930 people, Gautier also takes its wood from 100% French sources and works with local partners wherever possible (local SMEs, French or European companies).
Its chairs and sofas are built in collaboration with carefully chosen partners, primarily based in Europe.
Design & creativity
Gautier boasts a comprehensive team of designers. Constantly on the ball and looking out for new innovations and lifestyle changes in France as well as around the world, they come up with Gautier's solutions and concepts for the future..
But Gautier's innovation also centres around the Lab, a space designed for each and every employee to test out ideas beyond their field of expertise. The ultimate in teamwork.
Quality
A legacy of its former status as a children's furniture designer, the culture of quality underpins each and every stage from the original design right through to production, checking and delivery. This means that Gautier can ensure high quality, providing its clients with long-lasting products with a 10-year guarantee (excluding mattresses, chairs and sofas).
Our certifications for quality and the environment (ISO 9001 – ISO 14001) is proof of its genuine commitment.
Environmentally responsible
Following an eco-design approach to reduce the future product's environmental impact, recycling over 50% of our packaging, recycling 98% of our waste, optimising transport, producing and using panels with formaldehyde emissions that are two times lower than the minimum stipulated in the European standard: Gautier is committed to protecting the environment and creating healthier homes.